JDM Importing Guide
The Beginners Guide to Importing from Japan. A must-read before importing JDM.

Your FREE guide contains industry tips to getting the best deal on your JDM Import and is now available for download directly.

Download Your Guide

Over 7,000 copies Downloaded!

We respect your Privacy.
Automatic Translation: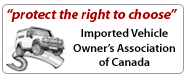 Proudly Canadian


BMW 5-Series (Mid-Size Luxury)
---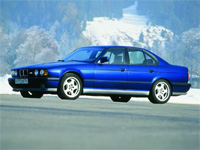 Contents
---
Written by Matt Krepinski (Enthusiast)
The BMW 5 series is well known for three pillars that make it one of the most popular and well recognized midsize executive cars; design, comfort, and safety. Bigger than the 3 series, but smaller than its brothers in the 6, 7, and 8 this is a perfect car for someone who wants luxury, an enjoyable experience for their passengers but enough refined power to excite the senses. The 5 series is considered a touring car, due to its ability to produce an enjoyable driving experience for everyone going for a cruise or road trip, and is reliable and fuel efficient enough to arrive to a destination with little fear of mechanical failure or need of constant refueling.

The interior has been gorgeous every year, and the sunroof is very large and wonderful for a summer's drive. You can find the 5 series in manual transmission; depending on your driving style automatic makes this car a luxurious way to commute about town, but a manual empowers you to be a fearless highway cruiser. You'll find this car in I4, I6, V8 and diesel models. 6 cylinders do a good job of pushing this car around at good speeds, but the V8 is recommended for those who crave more acceleration. The I4 is not terrible, but these are heavy cars and fun is best served with the I6.

The most advanced suspension technology has always been vested in this car, and the 50/50 weight distribution over the axles keeps things stable. The 5 series is currently in its 5th body style revision. As mentioned before, these cars have always been very well appointed. Taller drivers will definitely appreciate this car.

The 5 series allows the driver many options such as engines found in the 3 series such as the 2.5L I6, and the 3.5L I6. For the more demanding driver you can find the 5 series with a 4.0L V8. If that's still not enough for you, there is the M5 which is the super tuned version of the 5 series. Like many executive class cars, all models come very well equipped. There were some interesting factory options such as car phones, I often have a laugh when I see the gigantic brick "mobile phones" that came as an option in the 1980's. Consumer Reports gave the 5 series the highest rating ever, in 2001. There is no secret why, this simply is the car that will work hard for you to make sure you have a quiet luxurious ride but can still give you the power you crave. Car and Driver gave the 5 series the honour being of in its Top Ten cars for six years straight from 1997 to 2002. This car holds its value very well, and looks very sophisticated in all body styles.

The police in Europe rely heavily on this car, and it is used as an interceptor. If you've ever been to Europe, you'll notice how narrow the roads are. This is one of the only cars in the world that is large enough to seat two officers, hold all the equipment and the criminal in the back but navigate the twisting narrow roads of Europe's streets with grace. It is nimble, agile but has the raw power to make Europe's criminals think twice. Since it's a police vehicle, it has to be rugged, powerful, easy to maintain and quite reliable. Any mechanical breakdown could result in a criminal fleeing. These are the same cars civilians can purchase, with a few modifications that don't seem to hinder reliability.

This car is a reasonable and practical solution for those who need a daily commuter but also desire a car to go on weekend getaways yet engage in the occasional bout of fun.

Available BMW 5-Series Listings
---


281,000 YEN
In Japan - Dealer

F E A T U R E D

Please Inquire
In Japan - Dealer



1,200,000 YEN
In Japan - Dealer


BMW 5-Series M5 (LHD)
Year: 1993 /
Transmission:
Manual
Mileage: 108,571 KM
Gorgeous! Additional Photos: http://photos.yahoo.co.jp/ph/pinest2801/lst?.dir=/1eb4&.src=ph&.order=&.view=t

1,980,000 YEN
In Japan - Public



1,300,000 YEN
In Japan - Dealer

BMW 5-Series M5
Year: 1993 /
Transmission:
Manual
Mileage: 44,000 KM
This is a Yahoo Auction Vehicle. Please inquire for additional information.

1,500,000 YEN
In Japan - Public

Don't see the perfect 5-Series for you?
Sold BMW 5-Series Listings
---
JDM BMW 5-Series Pricing
---
Because of the variety of BMW models, estimated pricing is on a case by case basis. Inquire for a detailed quote.

BMW 5-Series Resources
---
BMW 5-Series Model Reference
---

E12 (1972-1981)

Europe
o 1974 518 - 1.8 L M118 I4
o 1976 518 - 1.8 L M42 I4
o 1980 518 - 1.8 L M10B18 I4
o 1972 520 - 2.0 L M17 I4, 115 hp (86 kW)
o 1972 520i - 2.0 L M64 fuel injected I4, 125 hp (93 kW)
o 1973 525i - 2.5 L I6
o 1975 528i - 2.8 L I6
o 1975 530i - 3.0 L I6, 176 hp (131 kW)
o 1979 M535i - 3.5 L I6, 218 hp (163 kW)

North America
o 1975-1978 530i - 3.0 L I6, 176 hp (131 kW)
o 1979-1981 528i - 2.8 L I6, 169 hp (126 kW)


E28 (1982-1988)

Europe
• 518/518i- 1.8 L M10B18
• 520i - 2.0 L M20B20 I6
• 524d - 2.4 L M21 diesel I6
• 524td - 2.4 L M21 turbodiesel I6
• 525i - 2.5 L M30B25 I6
• 525e - 2.7 L M20B27 I6
• 528i - 2.8 L M30B28 I6
• 530i - 3.0 L M30B30 I6
• 535i/M535i - 3.4 L M30B34 I6
• M5 - M88 I6, 286 DIN hp (210 kW)

North America
• 524td - 2.4 L M21 turbodiesel I6, 114 hp (85 kW)
• 528e - 2.7 L M20B27 I6, 121 hp (90 kW)
Designed for fuel efficiency
• 533i - 3.2 L M30B33 I6, 182 hp (135 kW)
High revving power
• 535i - 3.4 L M30B34 I6, 182 hp (135 kW)
A 533i bored to produce more torque and equal power
• 535is - 3.4 L M30B34 I6, 182 hp (135 kW)
A 535i with a sport suspension interior modifications
• M5 - 3.4 L S38B35 I6, 256 hp (190 kW)
High performance 5 Series - 24 valve DOHC, I6, six throttle bodies, Bosch Motronic integrated fuel injection, available only in black in the US.

E34 (1988-1996)

Europe
o 1989–1994 BMW 518i - 1.8 L M40B18 I4 115hp
o 1994–1996 BMW 518i - 1.8 L M43B18 I4 115hp
o 1995–1996 BMW 518g (CNG) Touring - 1.8 L M43B18 I4
o 1987–1990 BMW 520i - 2.0 L M20B20 I6 129hp
o 1987–1990 BMW 520i ECE - 2.0 L M20B20 I6 129hp higher compression than non ECE
o 1990–1996 BMW 520i - 2.0 L M50B20 I6 150hp
o 1988-1991 BMW 524td - 2.4 L M21 I6 diesel
o 1993-1995 BMW 525td - 2.5 L M51D25 UL I6 115hp diesel
o 1991-1995 BMW 525tds - 2.5 L M51D25 OL I6 143hp diesel
o 1987–1990 BMW 525i - 2.5 L M20B25 I6 170hp
o 1990–1996 BMW 525i - 2.5 L M50B25 I6 192hp
o 1990–1996 BMW 525iX - 2.5 L M50B25 I6 192hp Very rare
o 1992–1996 BMW 530i - 3.0 L M60B30 V8 218hp
o 1987–1993 BMW 535i - 3.5 L M30B35 I6 211hp
o 1992–1996 BMW 540i - 4.0 L M60B40 V8 286hp

North America
o 1989–1990 BMW 525i - 2.5 L M20B25 I6
o 1989–1993 BMW 535i - 3.5 L M30B35 I6
o 1991–1993 BMW M5 - 3.6 L S38B36 I6, 310 hp
o 1991–1995 BMW 525i - 2.5 L M50B25 I6
o 1994–1995 BMW 530i - 3.0 L M60B30 V8
o 1994–1995 BMW 540i - 4.0 L M60B40 V8


E39 (1996-2004)

Europe
• 1996–2000 520i - 2.0 L M52B20 I6, 150 hp (110 kW)
• 2000–2003 520i - 2.2 L M54B22 I6, 170 hp (127 kW)
• 1996–2000 523i - 2.5 L M52B25 I6, 170 hp (143 kW)
• 2000–2003 525i - 2.5 L M54B25 I6, 184 hp (137 kW)
• 1996–1999 528i - 2.8 L M52B28 I6, 193 hp (144 kW)
• 1999–2000 528i - 2.8 L M52B28 TU I6, 193 hp (144 kW)
• 2000–2003 530i - 3.0 L M54B30 I6, 231 hp (172 kW)
• 1996–2003 535i - 3.5 L M62B35 V8, 245 hp (183 kW)
• 1996–1998 540i - 4.4 L M62B44 V8, 282 hp (213 kW)
• 1998–2003 540i - 4.4 L M62TUB44 V8, 290 hp (216 kW)
• 1998–2003 M5 - 4.9 L S62 V8, 400 hp (298 kW)
• 2000-2003 520d - 2.0 L M47D20 diesel I4 134 hp (100 kW)
• 2000-2003 525d - 2.5 L M57D25 diesel I6 161 hp (120 kW)
• 1997-2000 525td - 2.5 L M51D25TU UL diesel I6 115 hp (85 kW)
• 1996-2000 525tds - 2.5 L M51D25TU OL diesel I6 143 hp (105 kW)
• 1998-2000 530d - 3.0 L M57D30 diesel I6 181 hp (135 kW)
• 2000-2003 530d - 3.0 L M57D30 diesel I6 190 hp (142 kW)

North America
• 1997–2000 528i - 2.8 L M52B28 I6, 193 hp (144 kW)
• 1997–1998 540i - 4.4 L M62B44 V8, 282 hp (213 kW)
• 2001–2003 525i - 2.5 L M54B25 I6, 184 hp (137 kW)
• 2001–2003 530i - 3.0 L M54B30 I6, 225 hp (172 kW)
• 1998–2003 540i - 4.4 L M62TUB44 V8, 282 hp (216 kW)
• 2000–2003 M5 - 5.0 L S62 V8, 394 hp (298 kW)