Honda NSX | Acura NSX
---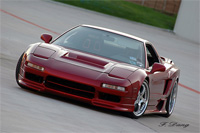 The Honda NSX (named the Acura NSX in North America) is one of the favourite "achievable" super cars in Japan. It has a mid engine, rear wheel drive layout, VTEC V6 engine and rare all-aluminium body and chassis.

"NSX" is an acronym for "New Sportscar eXperimental" when it was presented (as NS-X) in February 1989.

For a 1990, the NSX's design was completely ahead of its time and is still considered gorgeous by todays standards. The NSX was intended to showcase Honda's racing technology, exemplified by the NSX's ultra-rigid, ultra-light aluminium monocoque chassis, titanium connecting rods and high-revving capabilities.
Extensive testing at the Suzuka Circuit in Japan helped develop the NSX's high chassis rigidity and cornering/handling prowess. Production was limited and only about 200 hand-picked staff from various Honda factories were allowed to help in production of the NSX. In addition to their renowned skills, each staff member had to have at least ten years of experience in car assembly and were interviewed extensively for their degree of passion and devotion to the project before they were finally chosen.

Honda and majority of car enthusiasts describe the NSX as a supercar based on its styling, body type, drivetrain layout, packaging, and most especially in the area of car handling. The NSX's 270 rated horsepower at debut in 1990 was only 30 horses shy of the 300 lbs. heavier Ferrari 348, NSX's direct rival. Because of its lighter weight, the NSX was slightly faster than the 348 in straight-line acceleration.
For a time, it sported the highest per-litre specific output of any road-going naturally aspirated V6 in the world and is exceptionally fast for the motor's relatively low power output versus comparable "supercars".
Honda NSX Pricing:
coming
Honda NSX-R Pricing:
coming
Available Honda NSX Listings
---