JDM Importing Guide
The Beginners Guide to Importing from Japan. A must-read before importing JDM.

Your FREE guide contains industry tips to getting the best deal on your JDM Import and is now available for download directly.

Download Your Guide

Over 7,000 copies Downloaded!

We respect your Privacy.
Automatic Translation: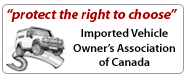 Proudly Canadian



Last updated on 01/13/11 at 2:33 AM
F E A T U R E D


Please Inquire
In USA - Private
F E A T U R E D
Mazda Cosmo
Year: 1991 /
Transmission:
Automatic
Mileage: 105,000 KM
This Cosmo looks to be in great condition, with the a sought ...

Please Inquire
In Japan - Dealer



390,000 YEN
In Japan - Dealer


350,000 YEN
In Japan - Public



700,000 YEN
In Japan - Public



700,000 YEN
In Japan - Public

Page 1 of 1 (6 Listings match your query)