JDM Importing Guide
The Beginners Guide to Importing from Japan. A must-read before importing JDM.

Your FREE guide contains industry tips to getting the best deal on your JDM Import and is now available for download directly.

Download Your Guide

Over 7,000 copies Downloaded!

We respect your Privacy.
Automatic Translation: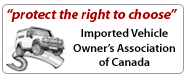 Proudly Canadian


Mercedes Benz G-Wagon | G-Wagen | G-Class
---
Written by Matt Krepinski (Enthusiast)
Known as the Geländewagen in Germany which means "cross-country vehicle".
Production of the G Wagon began in the early 1970's and it was produced only for military applications. There was a need for a durable, rugged and reliable off-road jeep by the armies of the world, and Mercedes Benz satisfied this need. Close to 40 years later this G wagon is still used by the militaries of the world.
A few years back Canadian soldiers and a journalist in Afghanistan hit a road side bomb, and they all survived driving in an armour plated G Wagon.

After several years the first non-military G Wagons were offered to the public. This is not some watered down civilian version of the vehicle; the only difference is the civilian edition did not have armour plating. Oddly enough you can still get versions of the G Wagon with vertical bench seating, and a space in the floor intended for an object the size of an M60 machine gun. The G would only get a bodystyle change in 1990, and keep this style until 1997.

The Mercedes G Wagon is very luxurious and refined on the inside. There are some who do not appreciate the function over form design, but those are the kind of people who don't understand how rugged this vehicle is. This is vehicle also trusted by both adventurers and city dwellers along with the military.

I know a gentleman who claims he "Is unable to get stuck driving through rivers" in his G Wagon but at the same time this is also his daily driver. This is a vehicle designed for people who want a classy looking SUV that can perform in extreme conditions but is also practical and reliable enough for the city. You can always feel safe in this vehicle while you go adventuring or in traffic.

This vehicle allows you the option of both gasoline and diesel engines. Gas models are available in I6, V8 and much later on in production there is a V12. The diesel models offer excellent gas mileage and astounding torque.

Available Mercedes Benz G-Class Listings
---

1,690,000 YEN
In Japan - Dealer


4,580,000 YEN
In Japan - Public



2,250,000 YEN
In Japan - Dealer



2,150,000 YEN
In Japan - Dealer

View unavailable Mercedes Listings
Don't see the perfect Mercedes for you?
Send us a Custom Order Request
JDM Mercedes Benz G-Class Pricing
---
JDM Mercedes Benz 300GE:
Chassis Code: W463

Model Differences:

Fulltime 4WD
3 Locking Differentials! (Front, Centre, Rear)
Electronicaly Activated Diffs
Luxury Interior Trim (Wood and Leather)
AC, Power Locks and Power Windows
ABS Brakes
300GE started production in 1990
500GE (V8 Engine) started Production in 1993

Pricing Coming Soon. Approx $30k and up

Auction Sheet Grading Explained
JDM Mercedes Benz 230GE & 280GE:
Chassis Code: W460 & W461

Model Differences:

Rear wheel drive with manually selectable 4wd
No Centre Differential Lock
Front Locking Diffs were available as a factory option
Hydrolicly activated Diffs (not electronic)
Grille and Headlight covers differ slightly from W463, and are always black even if the vehicle is a different colour
Basic Interior Trim
Started production in 1978
AC, Power Locks and Power Windows were available as a factory option

Pricing Coming Soon. Approx $10k - $18k range
Mercedes Benz G-Class Compliance
---
Compliance has recently become an issue with all imported vehicles in BC.
Typical Compliance parts required for the Mercedes Benz G-Class:
DOT/SAE Compliant Headlights
Daytime Running Light Module (In stock)
Dual Filament Bulbs
Front Signal/Markers
Wire & Wire Connectors
Sockets
Third Brake Light (Possible)
Typical Compliance service required for the Mercedes Benz G-Class:
Replace / Aim Headlights
Modify and Wire Rear Markers
Modify and Wire Front Markers
Modify Front Lense for DRL/Markers
Install DRL Module
Install Third Brake Light (Possible)
These parts are required to meet the regulations set forth by the CVSE. (Commercial Vehicle Safety and Enforcement)



Mercedes Benz G-Wagon Articles
---
Mercedes Benz G-Wagon Resources
---
Mercedes Benz G-Wagon Videos
---
G-Wagon Drifting
Mercedes Benz G-Wagon Offroading
Return to the Mercedes Homepage