JDM Importing Guide
The Beginners Guide to Importing from Japan. A must-read before importing JDM.

Your FREE guide contains industry tips to getting the best deal on your JDM Import and is now available for download directly.

Download Your Guide

Over 7,000 copies Downloaded!

We respect your Privacy.
Automatic Translation: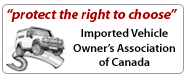 Proudly Canadian


Suzuki Cappuccino
---
Written by Warren Mok (Enthusiast)
The Suzuki Capuccino is one of it's kind. It was designed to be economical, afforadable and yet it's a ton of fun to drive for the average enthusiast. The Cappuccino falls under the Japanese Ultra Compact (aka Kei Car) category, lightweight and powered by a small 660cc engine. The Capuccino is definetely light, weighing in at a mere 700kg and it's small, with dimensions 129.7in long and 54.9in wide.

The Capuccino's powered by an all-alloy DOHC 12 valve, inline 3- cylinder, 657cc, turbocharged and intercooled engine (K6A and F6A in earlier models).
It's light weight is combined with an all alluminum double wishbone suspension and 4-wheel disc brakes.

It has a weight distribution of 51:49 (pretty darn close to 50:50) and the turbo engine in the front driving the rear wheels, the Capuccino is a BLAST to drive.
The Suzuki Capuccino probably won't blow you away on the highway, but it definetely will give you a scare on the streets. It was an instant hit in Japan after its first production, 2 years later production started in the UK because it was such a hit. A total of 28,010 Capuccinos were produced before production ended by Suzuki in 1999.


Available Suzuki Cappuccino Listings
---

Please Inquire
In Japan - Dealer

F E A T U R E D


Place Bid
In Japan - Public


Place Bid
In Japan - Public



600,000 YEN
In Japan - Public



800,000 YEN
In Japan - Public


1,000,000 YEN
In Japan - Public


1,000,000 YEN
In Japan - Public



570,000 YEN
In Japan - Public


590,000 YEN
In Japan - Public



700,000 YEN
In Japan - Public

View unavailable Suzuki Cappuccino Listings
Don't see the perfect Cappuccino for you?
Send us a Custom Order Request
JDM Suzuki Cappuccino Pricing
---
JDM Suzuki Cappuccino:
Chassis Code: EA11R

Engine: 64hp Turbo 3 Cylinder DOHC 12 Valve with Intercooler (F6A)

Model Specifics:

4 Wheel Disc Brakes
Front and Rear Double Wishbone Suspension
ABS and Limited Slip Differential (LSD) Optional
Power Windows Factory
Steering Wheel is Telescopic and Adjustable
Driver Side Airbag Optional
Same Turbo 3 Cyl Engine as the Infamous "Suzuki Alto Works"

Pricing Coming Soon.
Suzuki Cappuccino Compliance
---
Compliance has recently become an issue with all imported vehicles in BC.
Typical Compliance parts required for the Suzuki Cappuccino:
DOT/SAE Compliant Headlights (Custom Modification, not a shippable part)
Daytime Running Light Module (In stock)
Dual Filament Bulbs
Front Signal/Markers
Wire & Wire Connectors
Sockets
Typical Compliance service required for the Suzuki Cappuccino:
Modify Headlights with Legal Lights while maintaining the factory look
Replace / Aim Headlights
Modify and Wire Rear Markers
Modify and Wire Front Markers
Modify Front Lense for DRL/Markers
Install DRL Module
Install Third Brake Light (Possible)
These parts are required to meet the regulations set forth by the CVSE. (Commercial Vehicle Safety and Enforcement)
Approximate total cost for Compliance parts/service: about $1,500 CAD.



Suzuki Cappuccino Articles
---
Suzuki Cappuccino Resources
---
Suzuki Cappuccino Videos
---
Gymkhana Suzuki Cappuccino
Suzuki Cappuccino Sport
Suzuki Cappuccino Spotted on the Road
Gt4 Kamikaze Style: Cappuccino drift!
Suzuki Cappuccino with Type-Ti muffler
Return to the Cappuccino Homepage